Legendary ice show pioneers, producers, creators, and iconic stars reveal the triumphs and tragedies of a magical theatrical art performed on a frozen stage. You're fabulous!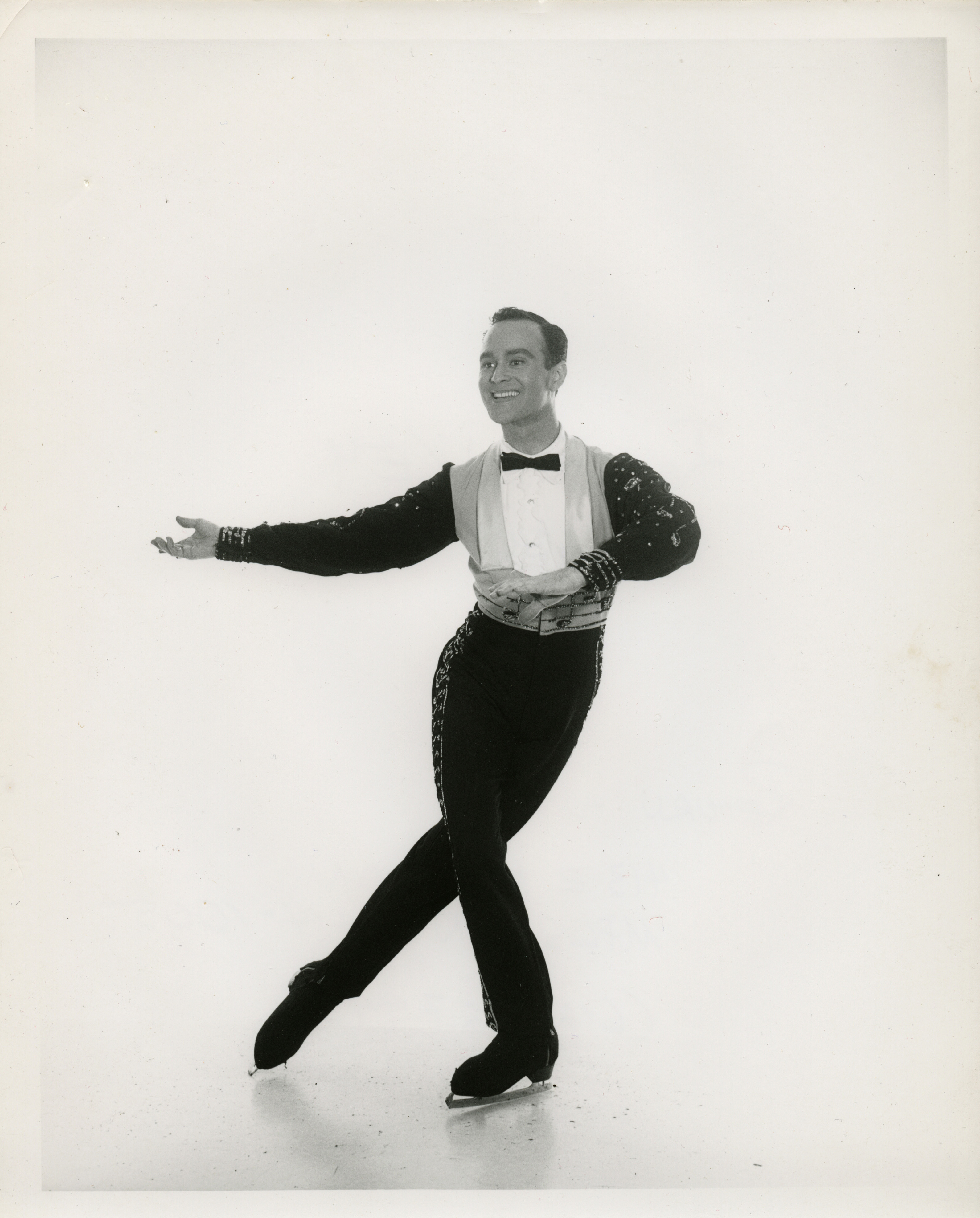 Former show skater with the Casa Carioca ice show in Garmisch, Germany (1954-1956), the Conrad Hilton Hotel Boulevard Room ice show in Chicago (1956-1961), and world tours with Holiday on Ice (1961-'67). Photographer in New York City specializing in studio photography of entertainers and male nudes (1967-1993) and in Minneapolis, MN (1994-present). Collector of Asian art and creator of the largest collection documenting the history of theatrical skating.
Biographies for the Stars of Fabulous Ice Age
Born in England. Studied dance and ice skating. Performed in theatre ice shows in England; joined Holiday on Ice in 1957. With a background of dance and acting, Andros climbed through the ranks of performer, show director, assistant choreographer and choreographer. Created, directed and choreographed 12 productions of Holiday on Ice over a span of 40 years.
From Macon, GA, studied music at the LA Conservatory and California Institute of Arts, with a major in clarinet performance, arranged, composed and played with many bands. Composed music for Holiday on Ice productions for Stephanie Andros, then Ted Shuffle, David Baker and other Holiday on Ice choreographers.
Skater, choreographer, set and costume designer for Holiday On Ice from 1961 – 2001.
An American figure skater who won two medals at the 1940 US Figure Skating Championships: a bronze in men's singles and a silver in pair skating with Hedy Stenuf. Skated professionally at the Center Theater in New York; with Sonja Henie in the Hollywood Ice Review; and with the Ice Capades. Choreographed a segment for the 1969 animated film, "A Boy Named Charlie Brown," in which Snoopy skates. Amazing person who coached figure skating in Santa Rosa, California.
Denise Benoit Eby
Ice Capades star, Denise skated with her sister in an identical pair skating number and later she worked for the Ice Capades and a publicist and spokesperson promoting John H. Harris and the Ice Capades. Later she married Ice Capades President George Eby.
Nine-time Austrian pair skating champion, producer of numerous ice productions as "Hot Ice," "Festival On Ice," and "Fantasy On Ice" in Caesar's Palace in Las Vegas, Harrah's Club in Lake Tahoe, CA, and on stage at such theatres as the Dorothy Chandler Pavilion in Los Angeles. Co-producer of Ice Capades (1988-1992), and director in Europe for the Holiday On Ice productions "Colours Of Dance" and "In Concert," as well as the long-running "Broadway On Ice," and ice skating productions on nine Royal Caribbean Lines cruise ships.
BRIAN BOITANO: Olympic skating champion (1988). First male figure skater presented in his own television special, "Canvas Of Ice" (1988). Starred with Katarina Witt in tours of "Skating" (1990), "Skating II" (1991), and "Chrysler Skating '92" (1992), and also in "Carmen On Ice" shown in movie theatres internationally and on TV in the U.S., where it was nominated for several Emmys. Starred for many seasons in Champions on Ice tours and has presented an annual television special, "Brian Boitano's Skating Spectacular" since 1997.
DENNIS BOYLE: Skater with Holiday On Ice and longtime wardrobe supervisor for Disney on Ice.
DOUGLAS BRENISER: Skating star partner to Gloria Nord in Skating Vanities and skating partner to Sonja Henie in the Sonja Henie Ice Revue and films, "Hello, London" and "Fantasy on Ice," as well as "Spice on Ice" in Las Vegas.
DICK BUTTON: Two-time Olympic gold medalist in men's figure skating. Guest star of Ice Capades and Holiday on Ice. Television commentator for figure skating productions. Producer of World Professional Figure Skating Championships from 1972-'00.
TOM COLLINS: Skating star, company manager and vice- president of Holiday On Ice; Founder, CEO, owner, executive producer of Champions on Ice (1969-2007); inducted into the United States, Canadian, and Professional Figure Skating Halls of Fame.
ROBIN COUSINS: An Olympic and European figure skating gold medalist. Finished second in the world championships in 1979 and 1980. Represented UK as an amateur skater for eight years, winning the National Senior Championships four times. Also won free skating portion of the World Championships three times (1978-'80). Amateur ice skating career climaxed by winning the European Figure Skating Championships gold medal and the Olympic gold medal in Lake Placid, New York, in 1980. During highly successful professional career, starred in Holiday On Ice and Ice Capades, and as a regular in the World Professional Figure Skating Championships. Director-choreographer of Holiday On Ice in Europe since 2000.
KATJA DEETLEFS: Skater with Holiday On Ice.
RICHARD DWYER: Long-time star as "Mr. Debonair" in Ice Follies from 1951 to the present. Competitive record and awards include: Pacific Coast Juvenile Men Champion (1946); US Novice Champion (1948); US Junior Champion (1949); 2nd place in Free Skate and 4th in Figures at Senior Nationals (1950); inducted into ISI Hall of Fame (1979) and US Figure Skating Hall of Fame (1993).
RANDY GARDNER: Skater and World Pairs Champion with partner with Tai Babilonia (1979); forced to withdraw from 1980 Olympics due to injury. Skated with Ice Capades throughout the 1980s; also Champions On Ice, Nutcracker On Ice, and numerous other live and televised ice productions, as skater and/or choreographer.
JULIETTE FELD, Executive Vice President, Feld Entertainment, Inc.
Juliette Feld joined the Feld Entertainment team in January 2010 as Director of Strategic Planning and has dedicated her tenure to keeping the company focused on its core mission of providing unforgettable entertainment experiences for families around the world.
Prior to joining the family business, Juliette served as a marketing and public relations executive for leading firms in Chicago and New York. From this diverse experience, Juliette brings with her an array of visionary ideas vital to the continued success of Feld Entertainment and its brands. Juliette graduated with honors from the University of Chicago where she earned a Bachelor of Arts degree, and shortly after continued her studies at Emory University in Atlanta where she completed her MBA.
In 2011, Juliette expanded her role in the company as producer, with sister Nicole Feld, for two of Feld Entertainment's newest shows, Disney On Ice presents Treasure Trove and Disney On Ice presents Dare to Dream. She also produces Nuclear Cowboyz®, a theatrical freestyle motorcross tour, with her father Kenneth. In January 2012, Juliette was named Executive Vice President.
KENNETH FELD is the Chairman and Chief Executive Officer of the world's largest live entertainment company. Kenneth was a sophomore at Boston University when his father, entertainment impresario Irvin Feld, purchased Ringling Bros. and Barnum & Bailey® in 1967 and celebrated that feat by staging a signing ceremony at the Colosseum in Rome. After earning his degree in business management in 1970, Kenneth began what he calls his "graduate education" by working side by side with his father in all facets of the company to learn the live entertainment industry. After Irvin's death in 1984, Kenneth assumed the role of CEO, and Feld Entertainment has grown exponentially under his watch.
Highlights of the Felds' innovations include creating a second touring unit of Ringling Bros.®, modernizing the creative and business practices of the shows and launching Disney On Ice in 1981. This partnership with the Walt Disney Corporation marked the creation of a new genre, the art of telling a full-length story on ice. The Felds' expertise in staging large-scale productions led to the creation of a Las Vegas extravaganza featuring master illusionists Siegfried & Roy® at the Mirage Hotel, which has been credited for revolutionizing entertainment productions in Las Vegas.
Based in Vienna, Virginia, Feld Entertainment, Inc., produces a wide variety of live family spectaculars, including three touring units of Ringling Bros. and Barnum & Bailey and multiple tours of Disney On Ice and Disney Live! In 2008, Feld Entertainment, Inc. expanded its entertainment properties to include Feld Motor Sports®, the largest live producer of motorized entertainment, including Monster Jam, AMA Supercross, Nitro Jam and Nuclear Cowboyz, the newest and most exciting freestyle motocross ever.
Kenneth is joined in this family-owned and operated business by his three daughters, Nicole, Alana and Juliette, bringing a third generation into the live family entertainment business. Feld Entertainment Inc. shows play to over 30 million fans each year in more than 70 countries and cover six continents.
BETTY GOEDHART: Skater with Holiday On Ice; long-time wife of the late HOI president, Skee Goodhardt. Became president of HOI for a few years following husband's death in 1994.
JOHN & KAREN FLANAGAN: John worked as a comedian in Sonja Henie's 1943 "Hollywood Ice Revue" and with "Ice Capades" before joining with his wife Karen to form their own company and produce and direct "Stars On Ice" which appeared throughout the country and the world.
JOANNE MITSUKO FUNAKOSHI: 1st Japanese American to Star in a National Professional Ice Show in USA, & Canada "Ice Capades"(5 years) rated in the '60s as America's number 1 touring Family Show. Star with Holiday On Ice for 13 years in Europe, Middle East, Asia, South America, & East Block communist countries during the cold war. Professional Figure Skating Headliner for the Lido de Paris France, & Le Cabaret in Paradise Island Bahamas Night Clubs. LA Figure Skating Club Honorary Life Membership Award as their first Asian female and for inspiring artistic achievement in figure skating with the donation of Funakoshi Artistic Award in 1964, now known as the "LA Showcase for Skaters" competition. Since 1986, she has been photographing award winners &; events for the US Figure Skating Association. As well as being a skater she is a photographer for Bahama Travel, Parent Magazines, Cabaret Theater & artists Luciano Pavarotti, Placido Domingo, Jose Careras, for Concert Programs, books, &; for Publicity and historic performances.
SCOTT HAMILTON: Hamilton finished in fifth place at the 1980 Winter Olympics, where he also had the honor of carrying the American flag in the opening ceremony. In 1981 he won gold in the World Figure Skating Championships, and he won gold again in 1982 and 1983 at the U.S. and World Championships, and won the gold medal at the 1984 Winter Olympics and that year's World Championships. In April 1984, he turned professional touring with Ice Capades for two years before he created "Scott Hamilton's American Tour," which was later renamed Stars on Ice. He co-founded, co-produced and performed in Stars on Ice for fifteen years before retiring from the tour in 2001 (though he still returns for occasional guest performances).
CHRISTINE RYAN HOTCHKIN: A young skater from Reno, NV is currently a professional figure skater with Disney on Ice. Christine's skills include aerial silks, dancing, acting, and singing and she says figure skating "is the air to my life". She has worked all over the U.S., and Vancouver ,Canada as a skater and is now her second year of the Disney on Ice tour in Japan, Macau, and will soon be going to Thailand, Malaysia, New Zealand, Australia, and many other exciting places.
TOMOKO IKAHATA: Skater with Holiday On Ice for many years on tours of Asia, Europe and South America. Now resides in Tokyo, Japan, where she heads late father's business of supplying glass for display cases that are used in retail stores and medical practices.
JACK JOHNCOCK: Skater and author of "Sonja is King" and "Mr. Hands."
REIKO KATO: First Japanese principal skater in Holiday On Ice tours of Asia and Europe.
SARAH KAWAHARA: Canadian figure skater and choreographer who joined Ice Capades at age 17 and skated with them for seven years. Won Emmy Award in 1997 for "Scott Hamilton Upside Down" and was the first skater to win the Best Choreography Emmy. Won her second Emmy in 2002 for choreographing the opening and closing ceremonies of the 2002 Winter Olympics. Currently resides in California.
NANCY KERRIGAN: Two-time Olympic medalist (1992-1994), a two-time World Medalist (1991-1992), and a U.S. champion (1993). Produced and starred in "Footloose On Ice," and "Halloween on Ice" and appeared in many other live and televised exhibition events including Champions On Ice and Stars on Ice. She is the voice of icenetwork.com.
TERRY S. KING: Skater with Holiday On Ice.
ESCH KLAUS: Skater with Holiday On Ice.
BRIAN KLAVANO: Skater with Holiday On Ice; choreographer and manager for Champions on Ice and Bietak Productions.
KAREN KRESEGE: Star of Ice Follies for many years before becoming a choreographer. Appeared in TV production of "The Nutcracker: A Fantasy on Ice" (1983). Judged the first season of "Dancing on Ice" British TV series (2006).
JOE MARSHAL: So many ice shows you are not going to believe it!
SHIRLEY MC GAFFIN: Skater in the 1950s and 1960s, then for many years secretary to Skee Goodhart, president of Holiday On Ice.
LUCILLE MILLER: Skater and first woman manager of Holiday On Ice.
JO ANN MCGOWAN MINSHULL: Daughter of pioneering ice show stars/producers McGowan & Mack; child skating star in her parents' shows and the MGM film, "Ice Follies of 1939." Appeared in theatre-restaurant ice shows at the Adolphus Hotel in Dallas and Conrad Hilton in Chicago, in "Robinson Crusoe On Ice" at Wembley Arena, London and in South Africa, and toured throughout the world with Holiday On Ice.
MARTIN MINSHULL: British men's figure skating and World Professional champion; star of the Baier Ice Ballet, Holiday On Ice and South African productions.
GLORIA NORD: Star of the roller skating Vanities (1942-1950) including skating role in the movie, "Pin-Up Girl" with Betty Grable. Star of five lavish ice productions in London, England's Wembley Arena (1952-1954) and the first ice skater to perform in the annual Royal Variety Command Performance before Queen Elizabeth at London's Coliseum Theatre (1953).
MOIRA NORTH: Skater with Holiday On Ice and Ice Follies. Founder, president, artistic director of Ice Theatre of New York since 1984.
JIRINA RIBBONS: Executive director of Ice Theatre of New York since 2005. Worked throughout the 1990s with Dick Button's Candid Productions to produce several annual professional skating competitions including the World Professional Figure Skating Championships.
KENNETH SHELLEY: An American skater who competed in both singles and pairs. Won 1972 US Figure Skating Champion- ships as a single and placed 4th at the 1972 Winter Olympics. Paired with JoJo Starbuck, won three National Championships. Starbuck and Shelley competed in two Olympic games, placing 13th in 1968 and 4th in 1972, and won two bronze medals at the World Figure Skating Championships. On the 1968 US Olympic team, they were the youngest athletes the US had ever sent to the Olympics. After retiring from competitive skating, Starbuck and Shelley skated with Ice Capades and competed professionally. Shelley was inducted into the US Figure Skating Hall of Fame in 1994.
JILL SHIPSTAD THOMAS: Born into an illustrious skating tradition, Jill's family is a part of figure skating history. As daughter of Roy Shipstad, owner and star of Ice Follies and member of the Figure Skating Hall of Fame, and Ice Follies star Bess Ehrhardt, Jill was destined to make ice skating her profession. She was a principal performer in major ice productions such as the original Ice Follies and later Holiday on Ice. Her background in dance; jazz, ballet, and contemporary, enabled her to choreograph all her own solos as well as those of her supporting chorus. Jill starred on the bill with many world and Olympic champions such as Peggy Fleming, Donald Jackson, David Jenkins as well as with the great showman Richard Dwyer, and future Olympic coach, Frank Carroll. Jill starred in various network television specials, as well as glamorous Ice Follies productions in the main showroom at Caesar's Palace in Las Vegas, Nevada.
JUDY THOMAS: Talent Director and Production Coordinator, Disney on Ice. Judy grew up in Thunder Bay, Ontario, and moved to Vancouver in 1970 for her final year of high school. After graduating from Carson Graham High School in North Vancouver in 1973, she saw an advertisement for a performance of Ice Follies in the Seattle area. She inquired about auditions, and after a successful audition she was offered a position as a chorus skater. Six weeks later, she joined the show in rehearsals in San Francisco.
After 20 years on tour with Ice Follies, Holiday On Ice and Disney On Ice, Judy Thomas hung up her figure skates in 1993 to assume the position of Artistic Talent Coordinator with Disney On Ice. In 2001, she assumed the responsibility of Talent Director and Production Coordinator. Judy Thomas is responsible for recruiting and hiring skaters for all Feld Entertainment productions throughout the world, accepting videos and resumes from skaters hailing from countries such as the Philippines, Russia, Hungary, Canada and the United States. She travels to competitions worldwide and informs coaches of opportunities with her organization. Once the shows' casts have been hired, Judy also coordinates the new Feld Entertainment productions and works to maintain the existing productions.
THOMAS SCALLEN is a Minnesota businessman associated with many companies. Scallen was the first owner of the NHL's Vancouver Canucks. and was president of International Broadcasting Corporation, which owned the Ice Capades and Harlem Globetrotters. He is the only person to have owned Ice Follies, Ice Capades and Holiday on Ice, although not all at the same time. He once owned Chanhassen Dinner Theatres, one of the nation's largest dinner theaters.
PAUL SIBLEY: Star in Europe of the Vienna Ice Revue; partner to Peggy Fleming in Ice Follies and An Evening With Peggy Fleming, and star in South Africa of "Rose Marie on Ice," "Sinbad On Ice," and "Cinderella On Ice."
JEANNE SOOK: Dancer turned skating star of the St. Regis Ho- tel ice show in NYC, and Ice Follies but probably best known for her work with partner Ted Roman in the Chicago Stevens Hotel show, Ice Capades and Holiday On Ice.
HANS STAHL: Producer with Holiday on Ice Stage Entertainment.
JOJO STARBUCK: An American figure skater born Alicia Starbuck in Birmingham, AL. With partner Kenneth Shelley, was coached by John Nicks and is a three-time US pairs skating champion (1970-'72) and two-time Olympian (1968 & 1972). Starred with Shelly in Ice Capades from 1975-'83. Continues to coach and choreograph; now lives in New Jersey where she teaches at the Essex Skating Club of New Jersey.
CATHY STEELE BIETAK: Featured in Casa Carioca ice revues in her home town Garmisch, Germany (1952-1953). Starred with partner Blair Hammond in two productions at the Conrad Hilton Hotel in Chicago (1954-1955) and in Dick Whittington On Ice (1956) in London, England. Long-time Ice Capades pair skating star with the late Phil Romayne; star with partner Willy Bietak in tours of The Peggy Fleming Show, A Concert On Ice (1972-1974). Choreographer for numerous Knotts Berry Farm ice shows and Royal Caribbean Lines cruise ship productions.
BILL STINE: Ice Follies skater and long-time Holiday on Ice company manager for numerous international tours.
FRANK SWEIDING: Ice Capades skater who has appeared in TV shows such as "Improv-Ice Presented By Chevy," "An Evening of Country on Ice," and "Holiday Celebration on Ice."
BOB TURK: Skater-dancer, producer, choreographer of many production including the Los Angeles area television series "Frosty Frolics" (1951-1952), the touring spectacle Ice Capades and the Lido de Paris nightclub in Paris, France.
HANS-WOLFGANG THURAU: Skater with Ernst and Maxi Baier and Holiday on Ice.
JOSE VAN KERKOERLE: Manager with Holiday On Ice.
MAREI VON SAHER: Skater with Holiday On Ice.
DON WATSON: Child star of ice shows at the Adolphus Hotel in Dallas, TX. Star of Hollywood Ice Revue, Sonja Henie Ice Revue, Holiday On Ice, and Conrad Hilton Hotel ice show in Chicago. Lighting director and company manager of Ice Capades; executive vice-president of Champions On Ice.
PAUL WILEY: Silver medalist at the 1992 Olympics, US Open Professional Championship and the 1993 World Professional Figure Skating Championships. Wylie toured with Champions On Ice (1992) and Stars On Ice (1993-1998).
AJA ZANOVA: Czech champion and two-time World Figure Skating Champion (1949, 1950); star of Ice Follies (1950-1953) and Ice Capades (1955-1957). Served as special representative of Ice Capades for several years after retiring from performing. With husband Paul Steindler, owned two NY City restaurants: The Duck Joint and The Czech Pavilion.