From Producer & Director Keri Pickett: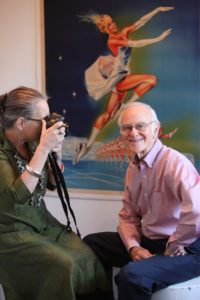 "Growing up, I didn't really know my uncle and I was five or six when I first met him during one of his rare visits to Minnesota. Roy was my exotic gypsy uncle who dressed as a clown and traveled the world as a skater in the ice shows. He brought me the Japanese kimono I am wearing in the photo. He had cameras and showed us his 8mm movies with a big projector and a portable screen in the living room. I kept his picture on my dresser for years and years.
Roy filmed me in 1965 modeling my new kimono along with the dolls he presented me, exotic gifts from the Far East:
As a pre-teen, my grandmother brought me to Europe for 2 weeks, starting in New York City, where I saw Roy's loft and his amazing pictures of people leaping, frozen beautifully in mid-air. It was magic. His world was inspirational and my passion for photography was born. Later, as a college grad, I moved to New York to pursue my love of photography and Roy and I began our real friendship. He understood my desire to be a photographer and without him, I might not have become a professional.
Then years later after graduating from college I moved to New York City and spent my first two weeks on Roy's couch.
So in part because of him I became a professional photographer, working as a photo-journalist for New York's Village Voice and later being assigned to create photographic essays, human interest feature stories, for People, Time magazine and other national and international magazines.
My first book "Love in the 90s" features my grandparents' love story and now my first film centers around their son, my Uncle Roy Blakey.
Fate would bring us both back to Minnesota, my home-state, where we share a Minneapolis photo studio. Over time, our studio has become less like a photo studio and more like a mini museum for Roy's IceStage Archive (www.icestagearchive.com).
My photography career has been focused on issues of family and communities all around the world. I have also authored another books, co-authored another, and contributed to many more.
All this has helped me to know a good story when I see one – so – I have become a filmmaker to tell his story. I have to help ensure that the history is preserved and so that is my motivation. My love for my Uncle Roy and my respect for his history and his dedication to his passion sparked my interest in this story. Roy introduced me to his friends, the pioneers and important personalities in the skating world, and I started filming interviews.
Olympic champion Dick Button actually met and became friends with Berlin's Charlotte before she died. She was the first star of the Hippodrome ice shows, one-hundred years ago, and she helped to popularize recreational skating. Not only is Mr. Button the voice of professional figure skating in America, he is also the perfect one to introduce Charlotte. I had the chance to learn the history from the pioneers – so, right away – I was hooked.
Juggling all the  producing, directing and editing tasks has helped me grow as both an artist and a storyteller. I now know a lot more about both my Uncle Roy and about the history of the ice shows and I have become as passionate about it as my uncle.  In the six-year journey of creating this documentary, I have learned a new language ad my artist's tool-kit is bigger now. I am following in my uncle's footsteps of working to ensure that this history will not be forgotten."
— Keri Pickett
p.s. I still have the dolls.