What happened to the great ice shows?
The Fabulous Ice Age, When The Stage Was Frozen And Ice Was Hot
by Keri Pickett, Producer/Director & Director of Photography
"The Fabulous Ice Age" chronicles the era of the great American touring iceshows revealing how, with their dazzling production numbers and variety acts, they dominated family entertainment for decades. It also depicts one skater's quest to keep this history from being forgotten. The ice shows' creation and success changed the lives of skaters and audiences alike – eventually exporting American culture around the world. Rare archival footage, candid interviews with producers, skating legends and devoted chorus gypsies bring this never-before-told history of a uniquely American art form to life.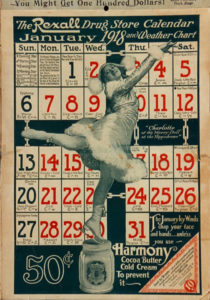 The journey begins in 1915 when a young German skater named Charlotte brings her ˜ballet on ice" to New York's Hippodrome Theater, igniting America's love of theatrical skating. In 1936, Minnesotan brothers Roy and Eddie Shipstad and partner Oscar Johnson booked their skating troupe (which had been performing at local ice carnivals and hockey games) into a hotel tank show, thus laying the groundwork for America's first touring ice show, the Ice Follies. Simultaneously, Olympic skating champion Sonja Henie took Hollywood by storm, resulting in the creation of The Hollywood Ice Revue, a lavish touring show starring Hollywood's newest sensation. Henie continued to make movie after movie, quickly becoming the highest paid star in Hollywood. As public interest soared, the Arena Managers Association created the Ice Capades, and soon "the big three" were performing year-round to packed houses.
In 1945, Minnesotan Morris Chalfen bought into a fledgling company called Holiday on Ice and, with the creation of a portable ice system, brought the ice show touring business to a new level, enabling him to book his show into any-and-all venues. As a part of America's cultural exchange program, he sent Holiday on Ice throughout Europe and behind the Iron Curtain, eventually introducing ice shows to countries in Africa, Asia, and South America – exporting American culture and values through entertainment, even to places that had never seen ice.
Meanwhile, inspired by Henie's films, and roller skating star Gloria Nord (Sonja Henie on wheels), a young Roy Blakey started amassing his ice show collection and dreamed of becoming a figure skater (a dream fulfilled when Roy began his skating career in a hotel tank show, eventually joining Holiday on Ice's international company during the 1960s). Since hanging up his skates, Blakey has become the unofficial archivist of theatrical skating, amassing a vast collection of posters, programs, photographs, films, costumes and souvenirs. Blakey's IceStage Archive holds the key to illustrating this amazing story of a century of performing on the frozen stage.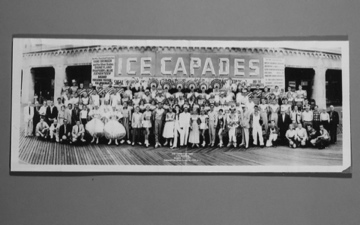 Roy, his fellow skaters and the statesmen and women of the industry, recall an era when sequined costumes, beautiful music and big production numbers were an evening's entertainment for the entire family. Skating legends, including 1964 Olympic Champion Dick Button, help tell the story of a community who lived their dream by touring the globe on a stage of ice, when ice shows employed thousands who entertained millions worldwide. Scott Hamilton and Kenneth Feld, producers of Stars on Ice and Disney on Ice, respectively, speak about the evolution of theatrical ice-skating into the ice shows of today.
With never before seen footage, photos and rare archival material, "The Fabulous Ice Age" captures not only this glamorous and important live-entertainment history, but also a portrait of a sequestered family touring existence, living in the world on an international level, but not of it. Spanning several generations, this art form responded in its own way to social and political turmoil and historical events: The Cold War, racial integration and acceptance of sexual orientation. Yet through it all they were creating a magical world of the ice shows.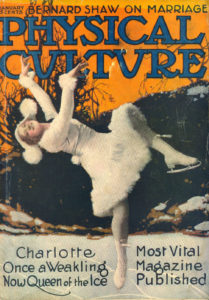 The "Fabulous Ice Age" chronicles the Golden Era of theatrical ice-skating and answers the question, "What Happened to the Great Ice Shows of the past?"
Movie clips, movie posters, show costumes and many black-and-white images spotlight Norway's Sonja Henie, considered the "mother" of the ice shows.
Classic PR photos of chorus lines in amazing costumes that introduce viewers to Shipstads and Johnson Ice Follies, the first touring ice show in America.
Through a movie clip from "Pin Up Girl," we meet Gloria Nord, a legend who helped pioneer a ballet- style approach to skating, initially on wheels and later on ice.
Former skaters tell inside stories such as how Ice Capades management required skaters to attend mass, turned backstage phone booths into confessionals and had bed checks at night.
Thanks to the invention of larger portable ice rinks, the ice shows traveled to far-flung countries. Captured in still photos and posters are images of the sell-out crowds in unlikely venues from Roman coliseums to Mexican bullrings to European football stadiums.
Newspaper headlines reveal how ice shows went behind the Iron Curtain as part of a cultural exchange, putting skaters in the surprising role of artist ambassadors for the West.
Rare film footage and photos capture the emotional reaction of Eastern Block audiences to Holiday on Ice's grand finale, presenting American and host country flags, side by side.
Backstage photos show heads of state and royalty, including the Nikita Khrushchev, Nehru, King Constantine of Greece, Princess Grace Kelly, and the king and queen of Thailand mingling with ice show cast members.
Dynamic former skater turned producer, Tom Collins, pioneered exhibition-style shows featuring reigning Olympic champions performing competition numbers, one at a time and Kenneth Feld created Disney on Ice for children and families, which in time, spelled the end of Ice Follies, Ice Capades and Holiday on Ice, as skaters and audiences had previously known them.
View Keri Pickett's profile